Cypriot leaders agree to push for peace
Comments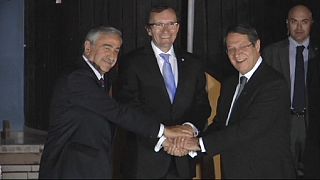 .
The leaders of ethnically divided Cyprus have agreed to restart peace talks on May 15 under the auspices of the United Nations.
Cyprus rivals to resume peace talks on Friday: UN http://t.co/gFwaQEgKPx

— Agence France-Presse (@AFP) May 11, 2015
It was the first time the two had met since moderate leftist Mustafa Akinci swept to victory in April's Turkish Cypriot leadership election.
Greek Cypriot leader Nicos Anastasiades said the time was right to use the momentum to move forward.
Cyprus has been divided since the Turkish army invaded in 1974 in response to a brief Greek-inspired coup aimed at union with Greece.
Finding a settlement has defied generations of diplomats but on his election win Akinci said a peace deal was his priority.
Both sides agree the island should be united under a two-state federal umbrella but past negotiations have faltered on the powers of a central government and property rights of thousands of internally displaced people.
The last major peace push collapsed in 2004, when Greek Cypriots rejected a reunification blueprint accepted by Turkish Cypriots.
Northern Cyprus is financially and militarily supported by Turkey, the only country which recognises it as a separate state. The Greek Cypriot government, which in practice controls only the south, represents the whole island in the European Union.