First round voting underway in Polish presidential election
Comments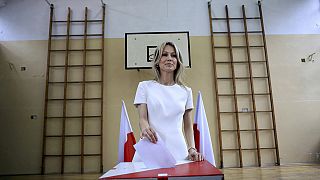 Poland is voting in the first round of presidental elections. Opinion polls suggest the result will send incumbent Bronislaw Komorowski into a second-round runoff against a conservative opposition challenger.
Front-runner Komorowski has around 40 percent in opinion polls. A comfortable re-election would give his government allies a confidence boost. They face another race later this year in a general election.
Komorowski's closest rival Andrzej Duda has about 30 percent after closing the gap in the last few weeks.
One of Duda's campaign promises is to lower the retirement age. He has warned that prices in Poland will go up if the country adopts the euro, something Komorowski said he wants to happen.
Among the other candidates running for president is Paweł Kukiz, a former rock-star, who is polling around 10 percent, and Janusz Korwin-Mikke who had about 5 percent.
If no candidate wins more than 50 percent, which polls suggest is likely to happen, the two with the biggest share of Sunday's vote will compete in a second round on May 24.
Poland votes in the first round of presidental election today. Here's all you need to know: http://t.co/3O0wSGpRFAeuronews</a></p>&mdash; Keith Walker (KeithWalkerNews) May 10, 2015