Putin's Hell's Angels make final push to Berlin
Comments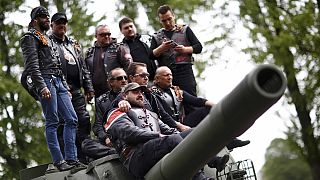 A group of Russian bikers with close links to Vladimir Putin have reached their final destination at the Soviet War memorial in Berlin.
The "Night Wolves" retraced the route of the Russian Army from Moscow to the German capital marking the 70th anniversary of Soviet forces defeating Nazi Germany.
The gang was joined by other motorcycle clubs en route as they passed through each country.
But the journey did not go off without a hitch.
On arriving at the Polish border the group were denied entry and they had to pass through Austria instead.
The Prime Minister of Poland called the expedition a provocation.
A number of others were also stopped at the German border despite having the correct papers.
The Night Wolves group has been blacklisted by the United States for their participation in Russia's annexation of Crimea from Ukraine.
Its member also back pro-Russian separatists in the east of Ukraine.