[Watch] Shocking images of child hidden in suitcase at Spanish border crossing
Comments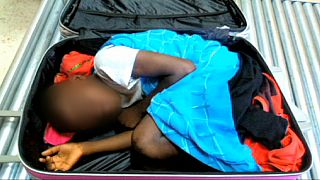 There is shock over the images of an eight-year-old child found hidden inside a suitcase by Spanish border guards.
The boy's father and a woman are accused of trying to smuggle the child into Europe via a land border crossing in Ceuta, a Spanish enclave in North Africa.
It is reported the adults had permits to reside in Spain, but the boy did not.
A Spanish court has reportedly ordered the detention of the man from the Ivory Coast.
Police say border guards stopped a 19-year-old Moroccan woman who looked nervous as she waited in line.
The child was discovered when the woman's suitcase was put through a scanner.