Podemos support plunges in poll amid party infighting
Comments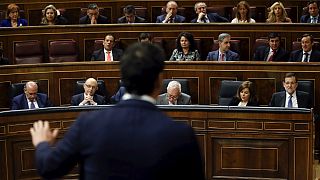 Support for Spain's upstart leftist party Podemos ("We can") has fallen sharply, a poll showed on Thursday, just as the anti-austerity movement struggles with internal divisions.
The ruling People's Party (PP) would win the general election if it were held today, with 25.6 percent of voting intentions, while the Socialists would rank second with 24.3 percent, according to the poll from the Centro de Investigaciones Sociologicas (CIS), one of the nation's most closely-watched political surveys.
Podemos would come third, but its support was seen dropping to just 16.5 percent from 23.9 percent in January.
It's a blow for the left-wing party, whose surge in popularity last year had mirrored the rise of Greece's radical Syriza, fueling huge hopes for the anti-austerity movement in Europe.
The dynamic led to tensions between Madrid and the new Greek administration over debt talks.
Podemos recently suffered the first serious crisis of its one-year history with the resignation of its co-founder Juan Carlos Monedero amid differences over strategy.
Another upstart party, Ciudadanos ("Citizens"), ranked fourth in the poll, with 13.8 percent, up sharply from 3.1 percent three months ago.
Spain's general election is due by the end of the year.
El PPopular</a> pierde 4,4 puntos en menos de un año, pero sigue siendo la primera fuerza en estimación de voto. <a href="https://twitter.com/hashtag/CIS?src=hash">#CIS</a> <a href="http://t.co/JZNrPh9D3E">pic.twitter.com/JZNrPh9D3E</a></p>&mdash; Porcentual.es (Porcentuales) Mayo 7, 2015