Missing Soviet soldiers and the quest to lay WWII to rest
Comments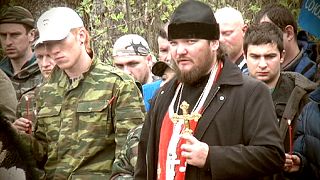 Russians who fought to rid Europe of Hitler are still rotting in the earth, somewhere on their way to Berlin. The 'Obelisk' search team is digging in the Smolensk region, 300 kilometres west of Moscow.
A volunteers searching for remains describes it: "The first thing I saw was the gas mask. Under the mask was a crushed skull. Here is the clavicle, and hand bones."
Four and a half million Soviet soldiers went missing in the Second World War, known to so many as The Great Patriotic War. Even 70 years later, most of them have not been buried. To bury them, first they had to be found.
The volunteer went on: "There are two people here, at least. Four legs. Only one of these identity capsules with a note. The chances are good we'll be able to read it."
Capsules, identification tags, helmets, rotten guns, grenades… artefacts found in forest expeditions are placed in a grassroots level memorial museum the Obelisk team created in a Moscow school.
It is a stroke of luck to find an engraved medallion that's well-preserved, or an enclosed note saying something about a soldier. This can allow the searchers to find relatives.
Mikhail Polyakov, head of the Obelisk team, said: "This is a photo of Andrey Ilshaev. We found his medallion saying he was from the village of Tarasovskaya in the Moscow region of Mytishchi. With this information in my pocket I just took a train. When I came to the village I found the street marked on the tag, with the house number. I went through the garden gate and saw an elderly woman, a babushka coming down off the porch. And I asked her: 'Tell me please, did Andrey Ilshaev ever live here?' She looked at me straight and said, 'Yes, that's my husband. He went off to war in February 1942 and since then I've never had any news about him.'"
Any personal belongings bearing an owner's name are rare, however.
Obelisk has found more than two thousand soldiers' remains and identified only 74 of them.
Obelisk searcher Dmitry Kluchnikov said: "We work in soils that are mostly acidic clay. Some remains dissolve. We can see an outline, but when we try to lift it out, it crumbles away in bits. It's very unlikely that organic material survives if the soil is acidic. There's a chemical reaction, leaving only a calcified skeleton."
The remains of unknown, unidentified soldiers are buried in small cemeteries, sometimes in the forest, but with military honours and Orthodox rites.
Why do these volunteers go digging? Almost every one tells a familiar story: "My grandfather was killed in the war, my grandfather went missing."
Nikita Tarasenkov, who is 12, and Mariana Chudinova, 14, are pupils in the school where the search team made its museum. Mariana is about to go off on an expedition. Nikita has done that twice. He has also made model cars and tanks for the museum.
Tarasenkov said: "I just want people to know that these soldiers fought for our country. I don't want them to be forgotten."
Chudinova said: "My grandfather was killed in a tank in the war, and many years later a search team found him. I was very pleased to learn that his remains had been preserved and have been buried in a grave."
Russians have a saying: "A war is not over until the last of its soldiers have been buried."
So, for many in today's Russia, the Second World War is not over yet – even after 70 years.
Every spring, hundreds of search groups go out to the forests and the mud to bury their soldiers and bury the war.