Seven cities in Italy protest school reforms
Comments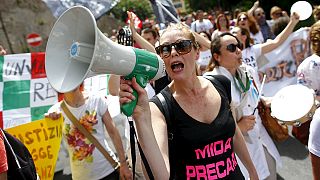 Schools have been closed across Italy as teachers and students took to the streets to protest against education reforms.
Proposed by Prime Minister Matteo Renzi the so-called 'Good Schools' plan aims to fix the country's schools but critics see the changes as unfair.
The reforms include hiring 100,000 substitute teachers on permanent contracts (many of them part-time at present) and offering pay increases based on merit rather than seniority.
Protesters say the plans would lead to funding problems and gives unfair advantages to private schools.
"We are here to demonstrate against a law that will modify the rules for schools, in the same way that our constitution has been modified," said Vincenzo Alessandro
Local CISL union leader. "We have a school that was based on providing education to all the community, now they want to substitute this with a school that divides students into first class and second class."
The Education Minister said she was perplexed at the reasons for the rallies but many fear the changes.
"I have my son here who is eight years old and I would like him to have opportunities with his schooling," said one protester. "I would like him to be free to choose his high school or university and that he is able to attend both. I would like him to be able to choose if he wants to be a blue collar worker or an architect."
Italy spends less on education than its main eurozone peers and the drop-out rate is among the highest on the continent. Renzi has set aside 3 billion euros for the reform which now faces a long approval process.