UK party leaders campaign hard in final days
Comments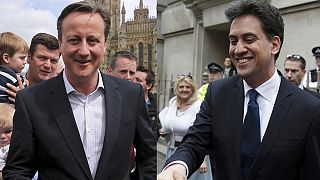 Labour's opposition leader Ed Miliband and Conservative Prime Minister David Cameron are running neck and neck in the race for Downing Street.
In the final days before Thursday's vote, leaders of all parties are campaigning vigorously against each other knowing that this is Britain's closest election in decades.
"In the closing hours of this campaign you can make all the difference with out country moving forward, not going backwards with Ed Miliband and the SNP. That's what it's all about."
With opinion polls indicating Labour is set to lose its former stronghold in Scotland to Nicola Sturgeon's Scottish National Party (SNP), on Monday Miliband welcomed the unexpected endorsement from Russell Brand. The popular comedian had previously urged Britain's youth not to bother voting.
Miliband has been criticised both within and without the Labour Party for flatly ruling out a post election deal with the SNP should he fail to win a majority in parliament. Opinion polls suggest the SNP could win up to 50 seats, and could hold the balance of power after May 7. At the back of Miliband's mind are the concerns of some voters that the SNP could force its policies through in return for supporting Labour in power.
At an election rally on Monday Miliband traded on traditional Labour values calling on supporters to elect a Labour government, " and make this country work for working people."
Nipping at the heels of the Conservatives is Nigel Farage's anti European Union UKIP. Running in third place he could seriously damage Cameron's support.
And with no single party expected to win an overall majority, that is good news for Liberal Democrat leader Nick Clegg who is hoping to renew his coalition deal after Thursday … but with which party? .
Latest opinion polls have the Conservatives on 34%,
Labour on 33%, UKIP on 14%, Lib Dems on 8% , Greens on 5%, and others on 6%.
In Scotland,opinion polls suggest the SNP could win up to 50 seats.