Nepal: government officials say number of dead could rise to 10,000
Comments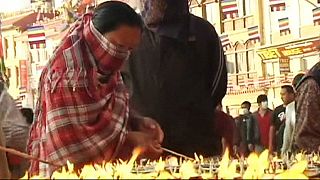 In Nepal people gathered at temples across the country to mark the birth of the Buddha. Nine days after the earthquake that ripped through the Himalayan kingdom prayers and candles paid tribute to those who lost their lives.
The official number of dead is 7,276. But government officials now say the total could top 10,000.
"Because of the earthquake, we have, like, suffering from many problems so I've come here for praying for them also," explained one woman at a Kathmandu temple.
Funeral pyres burn throughout Nepal. On Monday police and local volunteers found the bodies of about 100 trekkers and villagers buried in an avalanche in a remote area. It was feared more bodies would be discovered.
The country's government has asked foreign countries to wrap up search and rescue operations. Hope of finding people alive has all but run out.
But on Sunday three people were pulled alive from the rubble of their devastated home.
There is an air of frustration in many areas with much needed aid and relief not getting through. The government has said there are problems with supply trucks and drivers many of whom had returned to their villages to help their families.
The United Nations has said at least two million people are in need of aid over the next three months.