Investigation opened after Poland football match ends in tragedy
Comments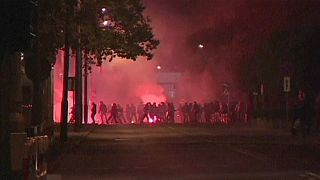 A double investigation has been opened in Poland following the death of a football supporter on Saturday.
The 27-year-old man, Dawid, died after being hit by a rubber bullet fired by a police officer .. after clashes erupted during a Polish league football match in the south of the country.
Supporters of the local Concordia Knurow team stormed onto the pitch during Saturday's match against Ruch Radzionkow, with the home team trailing 4-1.
Witnesses say the rioters hurled stones and petrol bombs.
Fourteen police officers were injured when fans turned on them.
More rioting broke out around the hospital where the man was pronounced dead.
Local television pictures showed riot police securing the hospital and detaining several suspects.
RIP Dawid. Shot by police at a fourth division match in Poland yesterday, Concordia Knurów vs Ruch Radzionkow pic.twitter.com/17qdZCvbDw

— Football_Day (@TheUltrasLife) May 3, 2015