Istanbul police prevent May Day protesters reaching Taksim Square
Comments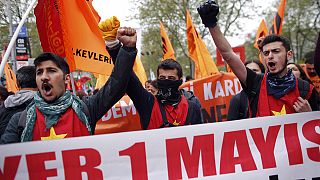 Istanbul police have used water canon and tear gas to prevent May Day demonstrators getting to Taksim Square, the scene of widespread protests in 2013. They spiraled into nationwide protests after a heavy-handed police crackdown. Now the government has banned protesters gathering in the square.
A member of the press running away from teargas on #MayDay in Istanbul – Taksim closed (Photo: Avny Kantan/Demotix) pic.twitter.com/lNCvoWfilk

— reported.ly (@reportedly) May 1, 2015
The May Day demonstration is the first major gathering since police were granted powers to use lethal force against protesters last year, a move heavily criticised by human rights groups.
Turkish news wires reported that 10,000 police officers were deployed around Taksim Square.
Police Fire Tear Gas and Water Cannons at Istanbul Protesters (Photo Kilicbil</a>) <a href="http://t.co/AYlyxHd8JA">http://t.co/AYlyxHd8JA</a> via <a href="https://twitter.com/nytimes">nytimespic.twitter.com/TLzlpy6PvJ

— Kaycee Nightfire (@KcNightfire) May 1, 2015
Istanbul police said that
147 people had been detained, although activists disputed that figure, saying the detainees numbered at least double the police figure.
Critics say President Tayyip Erdogan's government has become more authoritarian ahead of June elections.
The emblem of #Taksim ? Woman refuses to flinch as watercannon scatter those around her #1Mayıspic.twitter.com/TIOIXWJdjw

— euronews (@euronews) May 1, 2015