Six Baltimore officers charged in Freddie Gray police killing
Comments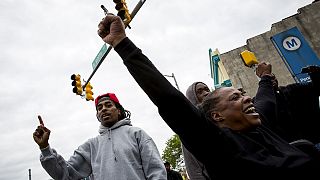 Six Baltimore police officers have been arrested in connection with the death of a black man who suffered a fatal neck injury while riding in a moving police van after his arrest, the city's chief prosecutor said on Friday (May 1).
Prosecutor Marilyn Mosby said Freddie Gray, who died a week after his April 12 arrest, was in handcuffs and shackles but otherwise was not restrained inside the van. The officers failed to provide medical attention to Gray even though he asked for help on at least two occasions.
The death of 25-year-old Gray has become the latest flashpoint in a national outcry over the treatment of black and other minority groups by US law enforcement.
After a night of rioting in Baltimore on Monday following Gray's funeral, protests spread to other major cities in a reprise of demonstrations set off by police killings last year of unarmed black men in Ferguson, Missouri, New York and elsewhere.
The six Baltimore police officers who were involved in arresting Gray were charged with crimes ranging from second-degree murder to manslaughter to assault and misconduct in office. Only one, Officer Caesar R. Goodson Jr., the driver of the police vehicle, was charged with second-degree murder.
The charge carries a maximum penalty of 30 years imprisonment and the other offences carry prison terms of between three years to 10 years.