Exclusive: Europe-bound migrants are being forced to try the world's deadliest sea crossing because of tighter security at other land borders, latest figures suggest.
Migrants arriving in Italy via the Mediterranean Sea rose by 295 percent in 2014, according to data from the UN's refugee agency.
In contrast, numbers entering Greece and Bulgaria by land from Turkey have decreased over the last two years, after both countries introduced increased border security.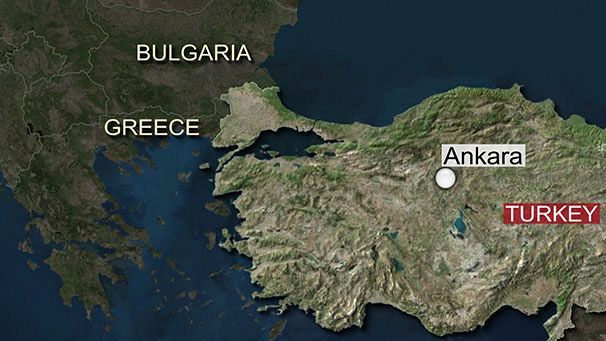 William Spindler, spokesman for the United Nations High Commission for Refugees (UNHCR), said there is a link between the two trends, claiming increased security on the borders with Bulgaria and Greece has 'made migrants try more dangerous routes'.
Up to 1,500 migrants have died in the Mediterranean in the first four months of this year, against the 3,500 that perished in 2014.
Bulgaria finished a 30-km long wall at its border with Turkey in September last year and announced plans to extend it along half the frontier earlier this month.
The construction of the three-metre-high metal fence, which has razor wire facing the Turkish side in a bid to keep migrants out, comes around two decades after the fall of the Iron Curtain, designed to keep people in.
Sofia will also deploy 1,500 border police to closely monitor Bulgaria's border with Turkey.
Greece completed a project to beef up security on its Turkey border in late 2012.
Mr Spindler added: "We have noticed that with the building of the wall between Bulgaria and Turkey and also increased security at the Greek-Turkey land border that the planned routes into Europe have become much more difficult for migrants and the figures of those crossing has gone down consequently.
"At the same time the people taking the sea route – that's gone up.
"The Mediterranean route is probably the most dangerous route in the world.
"In our view by closing all the possible routes for them to come, you just make them try more dangerous routes."
Figures released to Euronews by UNHCR show the increased security had a major effect on the number of migrants arriving in both countries.
Greece had 30,000 arrivals via its border with Turkey in 2012 but, after it improved security, numbers dropped to 1,122 the following year and 1,903 in 2014.
Migrants arriving in Bulgaria through its frontier with Turkey increased to 11,524 in 2013, but, after it finished a new border wall in 2014, entrants nearly halved to 6,023.
Over the same period migrants arriving by sea to Italy rose from 13,300 in 2012 to 170,000 last year.
The UNHCR spokesman in Bulgaria told Euronews the EU's poorest country struggled to cope with the sharp increase in migrants arriving, especially in 2013.
He put the increase partly down to Syrian refugees fleeing the war – now in its fifth year – who had exhausted their savings and resources and were making desperate bids to reach Europe for a better life.
He added: "Bulgaria has never dealt with such a high number of refugees trying to enter the country. There was a sharp increase in 2013 to around 11,500.
"It's a small fraction of the worldwide refugee numbers but in terms of what the country was used to it was a big increase.
"It was obvious the government was unable to cope and this created a climate where there was mixed messages in the media and from authorities.
It comes after the agency urged authorities to probe allegations two Iraqi men died after being blocked from entering Bulgaria. They were beaten and the group scattered before the duo died of hypothermia on the Turkish side of the border, according to accounts relayed to UNHCR officials.
He added: Our concern are people need to have access to the territory so they can make their case for asylum.
"Secondly the improvements to refugee conditions that were made last year, there needs to be a level of maintenance to what has been achieved.
"The final one is the fact there's no integration programme in the country which means when the refugees are recognised they have no access to affordable housing, language classes or the opportunity to gain new professional skills."
Video: Bulgaria's new border fence
Main image: A protest in Sofia, organised by Amnesty International, over the treatment of refugees and migrants in Europe.