Chile's president vows to re-write constitution and tackle corruption
Comments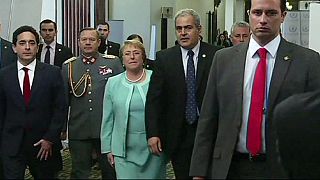 Chile's president has vowed to rewrite the constitution and tackle corruption in an attempt to draw the line under recent scandals which have blighted the government.
Michelle Bachelet also set a date to launch consultations on the new constitution saying,
"I want to announce that in September, when we celebrate our national day, we will begin a constitutional process open to all citizens by way of dialogue, debates, consultations, meetings, which will all contribute to the New Charter, which will be fully democratic and representative, as all of us deserve."
Bachelet is endorsing new anti-corruption measures, explaining that businesses will no longer be able to contribute to political parties which will now be funded by the government.
Trust in politicians has been shaken after a bank loan scandal involving Bachelet's son and a probe into fake tax receipts used by businesses to fund political parties.
No details have emerged about the new constitution, but the current one dates back to the 1973-1990 dictatorship of General Pinochet.