Chile's Calbuco volcano erupts a third time
Comments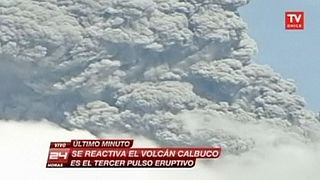 Chilean volcano Calbuco has erupted for a third time in just over a week sending a cloud of ash and smoke high into the sky.
The volcano erupted twice last week spewing over 200 million tonnes of ash coating nearby towns, wreaking havoc with the salmon industry and canceling flights as far away as Buenos Aires.
Located some 1,000 km south of Chile's capital Santiago, Calbuco had lain dormant for nearly five decades before erupting twice in the space of 24hrs last Wednesday.
The authorities are maintaining a red alert and a 20km exclusion zone around the crater.