Mayweather and Pacquiao in Las Vegas ahead of Saturday's multi-million dollar showdown
Comments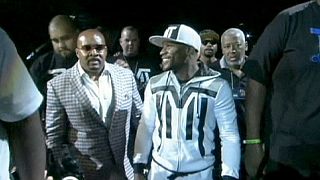 The pugilists are in place in Las Vegas ahead of yet another fight of the century as Floyd Mayweather and Manny Pacquiao prepare to square up at MGM Grand Garden Arena.
Floyd Mayweather and his crew arrived amid much razzmatazz and explained that the fight is not just a money-spinner: "It's not just about making money but about giving back. We're trying to make a difference. You know, we just don't, we make, of course I make a lot of money, but I also like to give back to the American citizen of course first."
Manny Pacquiao presented himself at the Mandalay Bay Hotel in a more low key show.
The pac man said he feels in good shape ahead of the multi-million dollar showdown.
The long-awaited bout between Floyd Mayweather and Manny Pacquiao will take place on Saturday May 2.