US anti-same sex marriage march in Washington
Comments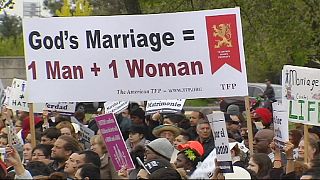 Several thousand protesters have marched in Washington against same-sex marriage as the US Supreme Court prepares to hear arguments on the divisive issue on Tuesday.
The decision, expected in June, rests on whether same-sex couples have a constitutional right to wed.
"It's in the Bible and God says so it is between man and a woman, and the Supreme Court has no authority to redefine it or even talk about it it is not in their authority at all. It is not even in the constitution for them to discuss it," said one demonstrator.
Representatives of the Protestant and Orthodox churches were present, with the message that marriage begins with God and not the State.
"As Pope Francis has said, married life is such a beautiful thing and we must protect it, protect the children," said Joseph Kurtz, President of the US Conference of Catholic Bishops.
However, the tide of opinion may be against the church on this issue as euronews correspondent Stefan Grobe explains:
"The marriage traditionalists might be fighting for a lost cause. A huge majority of Americans are in favor of same-sex marriage, as were multiple court rulings across the country. And the Supreme Court will likely do the same".