Two tons of cocaine seized after boat is intercepted off coast of Scotland
Comments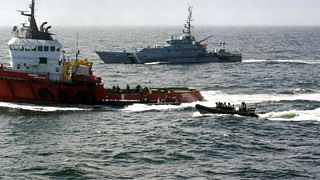 French customs say more than two tons of cocaine has been seized, after a boat was intercepted off the coast of Scotland.
Nine men, aged between 26 and 63, are due in court in Aberdeen on Monday charged with drug trafficking offences.
The Hamal tugboat was intercepted by ships from the Royal Navy and British coastguards in the North Sea on Thursday.
French customs identified the boat after it left the Canary Islands for northern Europe in mid-April by an unusual route that skirted Britain.
The boat's itinerary meant officials feared that cocaine from South America had been loaded in the Canary Islands, according to French customs.