Portuguese media uproar over 'censorship' law proposal
Comments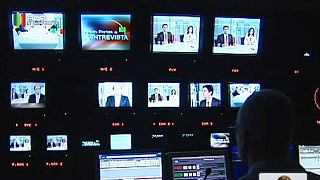 Portuguese media are up in arms over a proposed law that would force them to submit their election coverage plans for approval by a committee or face a fine.
It comes at an awkward time as Saturday marks the 41st anniversary of the country's revolution, which overthrew a regime that regularly censored the press.
According to Portuguese newspaper Publico, social media outlets have threatened to boycott covering this autumn's elections in retaliation.
The text was believed to be the work of MPs from both the ruling right-wing government and the opposition socialists.
Their leader Antonio Costa acted to distance himself from the text, saying he disapproved of the proposal.
The Socialist party is seen as the favorite to win the parliamentary elections this autumn.
But the party has been hit by scandal of late, with former Socialist Prime Minister Jose Socrates detained on allegations of corruption.