David Cameron - his first term as prime minister
Comments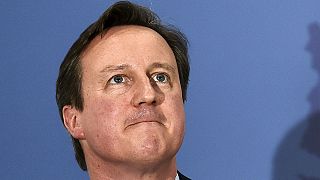 Driving the business of Britain. After his first term David Cameron, who became the country's youngest prime minister for over 200 years is fighting to remain at the wheel of power.
Opinion polls suggest there is not a big enough majority on the same political track as him.
The Eton and Oxford educated Conservative led his party back into number 10 after an absence of over a decade. But it was not straight forward. For the first time since February 1974 the nation had its first hung parliament with the Tories 20 seats short of an overall majority.
He formed a coalition government with the the Liberal Democrats appointing Nick Clegg as the deputy prime minister.
The business of government was new to the forty-three-year old, the workings of the party he knew well having been a special adviser to the Chancellor and then the Home Secretary before entering parliament and becoming leader in 2005.
Within a year the coalition's planned spending cuts sparked unrest in the streets of the capital. Other demonstrations followed during Cameron's leadership with an estimated 50,000 protesting outside the party's annual conference in 2013 over changes in the NHS.
A healthier and stronger economy to secure a better future for the families of Britain has been one of the core messages on the election campaign trail. His government froze fuel duty and claims to have cut income tax for 26 million people. The number of people out of work has fallen.
A globe-trotting world leader – that's perhaps how his aides wanted to portray the prime minister during his two day visit to Washington earlier this year. President Barack Obama called him, "one of my closest friends and most trusted partners in the world".
Such sentiments have not been heard to echo in Europe's corridors of power. His premiership has been marked by calls for reforms in the EU and he has pledged to hold a referendum on Britain's membership by 2017 if he is returned to office.
Domestic politics were dominated by another referendum. The people of Scotland went to the polls to decide whether to leave the United Kingdom. It was at times a bitter campaign in which Cameron promised further powers to the Scots to prevent a vote for independence. He made an impassioned plea before the vote.
"We want you to stay, head heart and soul we want you to stay."
But will the voters want him to stay as prime minister? One politician described David Cameron as having turned the Conservative Party's agenda into a "Public Relations agenda." Now his relationship with the public is set to determine his future.