Hungary 'lost and found' website helps mother find daughter
Comments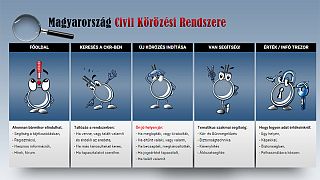 People who have lost a pet, or had a car stolen – or even whose relative goes missing – may find the police unwilling or unable to help.
A new website in Hungary, CKR, is proving popular by stepping in to fill the gap – publicising property that has been both lost and found.
CKR stands for "Civil Körözési Rendszer", or "Circular civil system". Since its launch in December 2014, it has had several success stories.
"We've made it possible for people to register on the site if they might be in a position to find certain things – for example animal shelters, pawnshops, junkyards – or any other place where lost and stolen items might appear," says CKR's founder Ákos Pándi.
The site does not only deal in property.
Mónika Kardos used it successfully to find her 19-year-old daughter who had disappeared.
Without telling her mother, Henrietta had gone to Austria with friends. CKR posted photos and information about Mónika's search on the website, and news of her appeal began to spread.
When Henrietta's friends saw the lengths to which Mónika was going to find her daughter, they persuaded the teenager to return home.
"I don't really trust the police. They didn't do anything. Basically they told me that the girl is already an adult, and maybe it was her own decision to leave. They didn't do anything, just told me to go home. Nobody there understood how I felt," Mónika says.
After six days away, Henrietta was back home. Mónika's online appeal via CKR had paid off.
Neither Henrietta nor her mother wanted to talk about the reasons for her leaving home in the first place – but both have resolved to ensure that the episode is not repeated.
CKR also contains practical information, providing a list of detectives, lawyers, psychiatrists, insurers, and so on.
It has seen a gradual increase in visitors, who now number tens of thousands. The website has ambitions to develop internationally, to help with cross-border searches – arguing for instance that a car stolen in Germany could end up with a Hungarian car dealer.
After three years spent developing the website, funding it from their own pockets, CKR's founders hope it will continue to deliver – not just attracting more users – but by reuniting more people with their missing possessions, and loved ones.