Future of the Olympic movement at stake in Sochi
Comments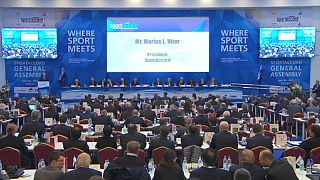 Hello and welcome to our special edition of Sports United. Can you guess where we are this week? Well we are in Russia's Black Sea resort of Sochi. Host city to last year's Winter Olympics and this week the city is playing host to the SportAccord Convention World Sport & Business Summit… that's quite the mouthful but this is quite the event.
Originally launched in 2003, the annual SportAccord Convention encompasses the Congress and General Assemblies of over 100 International Sports Federations.
The event is dedicated to engaging rights holders, organising committees, cities, and other organisations in the development of sport.
Controversy erupted on Monday when SportAccord chief Marius Vizer fiercely criticised the IOC, accusing the Olympic body of running a system that is expired and unfair.
Vizer's speech sparked an immediate backlash among some federation presidents and sent shock waves through the Olympic movement.
International Olympic Committee president Thomas Bach responded by dismissing Vizer's views as personal and called for unity.
After his speech the SportAccord president spoke exclusively to Euronews and Sports United.
Joe Allen, euronews
President Vizer, that was quite the opening address at the General Assembly… quite a bombshell that you dropped. Have you not just openly declared war on the IOC and President Bach. If so, why and why now?
SportAccord president, Marius Vizer
I just addressed a message to the world of sport. It was not particular to a person or any organisation. I expressed the reality of sport today. The IOC, considered the biggest sports organisation, institution, system or whatever you want, is or wants to assume the role of the leader of the sport in the world. We all respect and recognise Olympism and Olympic Games. But behind that there has to be a real system.
euronews
Soon after your speech, the IAAF resigned from SportAccord while many federations, including FIFA and FINA signed a letter claiming they did not agree with your comments. Have you got any support from your federations?
Marius Vizer
You have to make a distinction in sport between people who live for sport and people who live from sport. For those who live, more or less exclusively from sport, it's very attractive and very interesting to defend the system because the virtues of the system, let's say of the IOC, has lots of tentacles in different directions. So the question is very simple, do we want to clean up the story or cover the story?
The art of sumo wrestling
Sumo is an ancient sport which has very few rules. The aim is to move your opponent out of a 4.5 metres in diameter ring or force them to touch the ground with any part of their body other than the soles of their feet. Physical preparation is important but psychological toughness is also key to winning sumo contests, which usually last only a few seconds. Ties are extremely rare. Sumo's origins lie in rural Japanese rituals traced back over 2,000 years. In the Edo period, it became a popular feature of urban culture among the merchant class and emerged as a professional sport which never ceases to grow. Sumo used to be a male-only martial art but times have changed. Despite protests from purists, female wrestlers have arrived on the scene and are now represented in 17 countries.
Looking back
We have come to the end of our special edition of Sports United here in Sochi. It has certainly been an eventful trip!! To finish off here's now a clip of our best images since episode 1. Hope you enjoy and see you all again next week. Goodbye.