Crowds protest over death of black man arrested by Baltimore police
Comments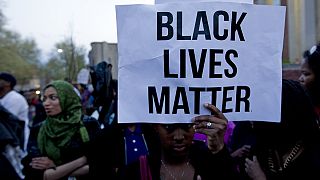 Hundreds gathered in Baltimore on Tuesday in protest over the death of a black man just days after he was held in police custody.
Freddie Gray, 27, slipped into a coma and died of a spinal injury on Sunday, a week after he was arrested carrying a switchblade knife in his pocket.
His sudden death has sparked outrage in the city and comes amid nationwide tensions over police violence against black men.
"He's dead now, because the police put him in something and something happened, and we have to get to the bottom of that, because he should not be dead. He should be in jail or alive," said Tessa Hill-Aston, president of the Baltimore chapter of the NAACP (National Association for the Advancement of Colored People), who was among the protesters.
The demonstration was peaceful, according to local media. Earlier on Tuesday, six Baltimore police officers were suspended over Gray's death.