Many injured as coach carrying Morocco footballers crashes
Comments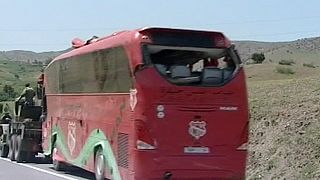 Players from a major Moroccan football club are reportedly among 29 people injured, some seriously, in a head-on crash between their team bus and a van.
It happened in the centre of the country early on Monday morning, near the hometown of the Chabab Atlas Khenifra team which was returning from an away fixture.
The accident happened 10 days after 34 people, mostly children returning from a sporting event, were killed in southern Morocco when their bus caught fire after a head-on crash with a trailer truck.
Road accidents have been increasing in Morocco, where car ownership has nearly doubled in 15 years. Official statistics say an average of 10 people die every day in traffic accidents.