Egypt: 22 Mursi supporters sentenced to death
Comments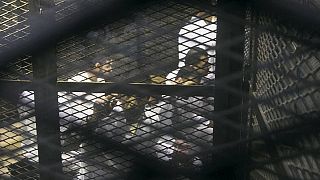 An Egyptian court has sentenced 22 supporters of ousted President Mohamed Morsi to death for storming a police station in 2013.
The country's first freely elected president, Morsi was ousted by the army that year. He could also be sentenced to death on Tuesday (April 21) as the state cracks down on the Islamists who once governed the country.
Abdel Fattah al-Sisi toppled Morsi and became president after millions of people protested against the leader's divisive year-long rule.
Egypt's new authorities then launched a sweeping and sustained crackdown against the Muslim Brotherhood that has left hundreds of people dead and thousands jailed.