Thousands protest government corruption across Hungary
Comments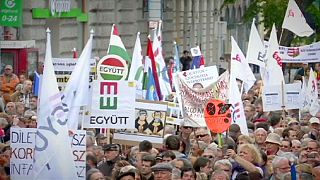 Thousands of people have gathered in 50 cities across Hungary to protest what many say is an erosion of democratic freedoms and government corruption.
Sunday's (April 19)demonstrations came after the European Commission suspended payments to Hungary over suspected corruption and irregularities in the awarding of tenders.
Listening to my heart I would make them resign and call an early election," a woman told euronews. "For me, anybody else would be better than them, They have no shame."
"I would like them to steal less and to build more cycle lanes. They should be more balanced," said a man.
Prime Minister Viktor Orban's ruling party has recently lost its super majority after two by-election defeats.
Euronews correspondent Attilla Magyar filed the following report from Budapest:
"The last months have seen several demonstration against corruption and the actions of Orbán's government. The most recent protest demonstration was sparked by the recent disagreement between the European Union and the Hungarian government. The organisers have promised more demonstrations."