SportAccord president Marius Vizer slams IOC
Comments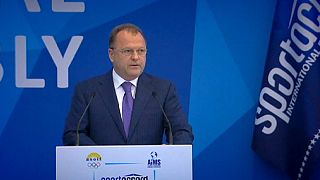 Controversy erupted at the SportAccord convention in the Russian resort of Sochi after its chief Marius Vizer launched a scathing attack on the IOC, accusing the Olympic body of running a system that is expired and unfair.
SportAccord chief Marius Vizer: ''I always tried to develop a constructive collaboration with the IOC and with President Bach. A collaboration based on respect towards the Olympic Movement, its members and the values in which I believe. Unfortunately, it never became a reality. I made a number of proposals in favour and for the benefit of IFs and SportAccord but we have never received a positive reaction."
Vizer's speech sparked an immediate backlash among some Olympic sports leaders, with the world athletics federation IAAF withdrawing its SportAccord membership.
According to reports, a group of 14 federation presidents, including FIFA's Sepp Blatter, signed a letter contesting Vizer's comments and expressing support for Bach and the IOC.