'More powerful than a nuke': Kim Jong-un refreshed after 'climbing highest peak'
Comments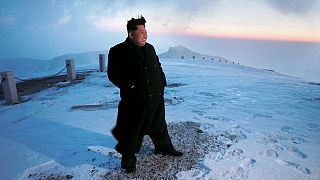 North Korean propaganda appears to have reached new heights.
The latest photo to emerge of leader Kim Jong-un suggests he has climbed Paektu Mountain, the secretive country's highest peak. An example to his troops, state media agency KCNA reports. It's an incredible feat, if earlier reports the leader suffers from serious spells of gout are to be believed.
Hundreds of fighter pilots and senior officers are said to have accompanied him on his climb, which provided "valuable mental nourishment, more powerful than any nuclear weapon," local newspaper Rodong Sinmun quotes him as saying.
Rising to over 2,700 metres above sea level, Paektu Mountain, an active volcano, is located on North Korea's northern border.
It is a sacred spot for the state's people. Local legend has it that Kim's father, Kim-Jung-il, was born atop the mountain. Many historian claim he was born in Russia.