Greek Cypriots 'satisfied' with first round of elections in Cyprus
Comments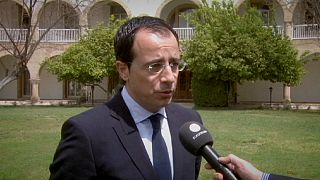 The Greek Cypriot part of Cyprus appeared satisfied with the result of round one of the Turkish Cypriot elections.
The internationally recognized Cypriot government is officially distancing itself from the vote but hopes peace negotiations will soon continue on the divided island.
"We are ready to work together with whoever the Turkish Cypriots choose as their leader, in the hope that the third phase of talks will begin soon," government spokesman Nikos Christodoulides told euronews. "And with the contribution of Turkey to try to achieve the much desired solution of the Cyprus issue."
Political observers consider the moderate Mustafa Akinsi as a potential winner in next week's run-off against the incumbent conservative Dervis Eroglu.
"The leader of the Turkish Cypriots can shape up the political behaviour [about the future of the island] either with the Greek Cypriots or with Turkey," political analyst Rallou Papageorgiou told euronews. "Mr Akinsi will do that with the Greek Cypriots. Mr Eroglu will do it with the Ankara government."
Euronews correspondent Stamatis Giannisis reported from Nicosia: "Officially the Greek Cypriot side expresses no preference for any of the two contestants for the Turkish Cypriot leadership, but the feeling here in Nicosia is that a victory by moderate Mr. Akinsi may signal the time for some essential progress to be made on the Cyprus issue, after years of stagnation."