'Stop TTIP': Protests in Europe and beyond against US-EU trade pact
Comments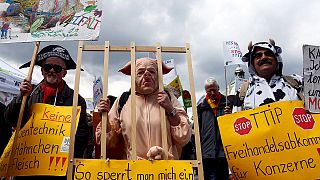 Hundreds of demonstrations have taken place worldwide against a planned free trade agreement between the US and the EU – in one of the largest series of protests so far.
We say NO, we don't want this. We have enough going on here in Germany with genetically modified food
There is intense opposition to the Transatlantic Trade and Investment Partnership (TTIP). The next round of talks on the proposed pact are due to begin in New York on Monday, aiming to remove customs and regulatory barriers between the United States and Europe.
Saturday's rallies were organised by an international alliance of non-governmental organisations, unions, political parties and other groups across some 45 countries.
An estimated 22,000 people marched in Austrian towns and cities. Many believe the pact will damage the country's agricultural and pharmaceutical sectors as well as consumers.
In Vienna organisers said 15,000 turned out; the police put the number at 6,000. There were also demonstrations in Graz, Linz and Klagenfurt.
Of more than 200 protests across Germany on Saturday, more people turned out in Munich than in any other city, including Berlin.
Of all European counties, resistance to the proposed agreement is arguably strongest in Germany.
One poll found 43 percent of people thought TTIP to be "bad", compared to 30 percent of Germans who said it was "good".
Some believe the pact will threaten health and safety standards in food.
"We say NO, we don't want this. We have enough going on here in Germany with genetically modified food," said one woman at the Munich protest.
Among the other protests, about 2,000 demonstrated in Brussels; about half that number in Helsinki.
Supporters of the free trade pact argue it will be a massive boost for participating countries economies.
Its detractors fear it will simply benefit already-powerful corporate interests, at the expense of job security, the environment, and consumer concerns.
The European Commissioner for Trade, Cecilia Malmström, said in a blog on the Commission website last week that although she found the debate inspiring, opposition to TTIP did not have a basis in reality.
The pact, she said, could bring better public services and lower costs – and would not tie governments' hands or put them in hock to the private sector.