Opposition leader Juha Sipila wins elections in Finland
Comments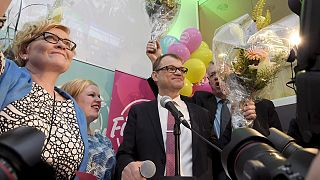 There is a changing of the guard in Finland.
The opposition Centre Party led by millionaire businessman Juha Sipila is the winner of parliamentary elections.
He will replace Alexander Stubb, who has led a broad pro-European coalition government.
Sipila is likely to now become prime minister of a coalition that could include Eurosceptic nationalists.
"The Finnish situation is very difficult and it will be about a 10-year project to get Finland in shape again," said Sipila.
"And this is a combination of cuts, reforms and growth we will need in the future".
Much of the campaign was focused on voter dissatisfaction over what is being done to revive the economy.