Iran nuclear deal: 'different versions' of the same agreement, says Zarif
Comments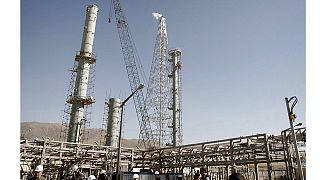 Iran has said it does not intend to emulate the US government's move to publish a fact sheet, outlining details of the proposed nuclear deal between Tehran and the 5 + 1 powers.
Iranian officials have been dismissive of Washington's role in the negotiations. Earlier this week (April 15), President Hassan Rouhani rejected claims the US Congress could derail plans to reach a final agreement on the deal by June 30. The accord concerns only Iran and the 5 + 1 powers as an entire group, he said.
In an exclusive interview with euronews, Iran's foreign minister, Mohammad Javad Zarif, claimed parts of the US fact sheet had been mistranslated.
"The United States, for their own domestic reasons – and that's their right and their prerogative – produced a fact sheet, which was not exactly what we adopted," he told Reihaneh Mazaheri. "So, the best way for all of us is to stop fighting over this, to negotiate and – once the final agreement is reached – to make the final agreement available to the public."
Discussions will resume on April 21, 2015.
A plan concerning the timing and extent of sanctions relief for Iran – a much-disputed topic – was, reportedly, one of the mistranslated points on the fact sheet.
You can see the full interview with Mohammad Javad Zarif on euronews from 8.45pm CET on Friday, April 17.