The treasurer of Brazil's ruling Workers' Party arrested on corruption charges
Comments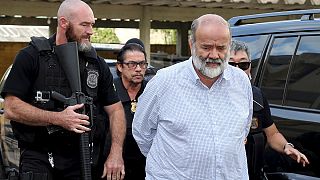 A senior member of Brazil's ruling Workers' Party has been arrested as part of an investigation into rampant corruption at the country's state-run oil company, Petrobras.
Party treasurer Joao Vaccari was arrested by federal police on Wednesday, charged with handling over $200 million obtained from engineering and construction firms who overcharged the oil company and passed the profits on to the Workers' Party.
"The service was not provided according to the contract and, to be clear, the investigation is indeed into the paying of bribes," police delegate Igor Romario de Paulo told reporters at a press conference following Vaccari's arrest.
Vaccari was indicted in March and was arrested after five defendants testified in plea bargain agreements to his involvement in the Petrobras graft scandal. Both Vaccari and the Workers' Party maintain his innocence but the arrest of such a high-ranking party official brings the investigation closer to President Dilma Rousseff's inner circle.
Rousseff has denied any involvement in the Petrobras corruption scheme but the scandal has led to nationwide protests against her government and calls for her impeachment.
More than a million people joined demonstrations in over 200 cities across Brazil on Sunday, the second national protest this year.