Guinea's opposition calls for a halt to violent protests
Comments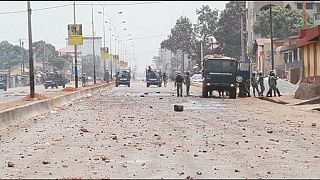 Opposition parties in Guinea have called for violent protests to stop after one person was killed and at least ten others were injured.
Guinea opposition suspends protests as govt calls for talks: Conakry (AFP) – Guinea's opposition said Tuesday … http://t.co/LAe6qcoPoX

— ModernGhana.com (@modernghanaweb) April 14, 2015
There have been two days of clashes in the capital Conakry between opposition supporters and security forces.
The protests are over the timing of elections.
On Tuesday gunfire was heard and one person was taken to hospital with bullet wounds.
The opposition is trying to pressure the government into holding a local election ahead of a presidential vote as agreed in a 2013 deal.
The government is refusing and is sticking by an October 11 date for the presidential poll with the local election to be held some time early next year.
Analysts believe a local election first would give President Alpha Conde's rivals more of an influence in making a presidential challenge.
The government denies that delaying the local poll will have an impact on free and fair elections.
It has called for talks to ease tensions.
However, opposition leader Cellou Dalein Diallo has ruled out any talks unless the government scraps the existing election timetable.