One year on: Nigeria remembers schoolgirls kidnapped by Boko Haram
Comments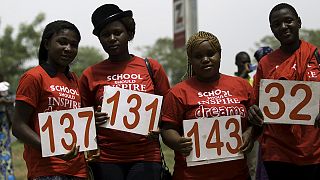 Marches have taken place in Nigeria exactly one year after Boko Haram militants abducted hundreds of girls from their boarding school in the northeastern town of Chibok.
Demonstrators took to the streets of the capital Abuja to pile pressure on the government to increase recovery efforts.
Almost 300 schoolgirls were taken in April 2014. Dozens escaped, but 219 remain missing.
219 Nigerian girls, still missing one year after #BringBackOurGirls. @MalalaFund won't forget: http://t.co/xOxInYJvBLpic.twitter.com/kp0H4ik2z4

— Mashable (@mashable) April 14, 2015
President-elect Muhammadu Buhari has vowed to make fresh efforts to free the girls, but admitted they may never be found.
Enoch Mark's two daughters were among those abducted. He has placed his faith in the new leader, who is due to take office in May 2015.
"Now that Buhari is about to come into office, I have full confidence that, sooner or later, we will see our daughters," said Mark.
#BringBackOurGirls
The abduction provoked international condemnation and led to the establishment of the 'Bring Back Our Girls' campaign to continue to raise awareness of the situation.
Today marks one year since over 200 school girls were abducted in Nigeria. We have not forgotten! #BringBackOurGirlspic.twitter.com/oiBeEda4k5

— Sons & Brothers (@sonsandbros) April 14, 2015
The first Nigerians to reach the North Pole, this is their message on the anniversary of Chibok: #bringbackourgirlspic.twitter.com/xXuGpv0XD8

— Challenge 100 (@thechallenge100) April 14, 2015
Fighting Boko Haram
Nigeria and neighbouring Chad, Cameroon and Niger, have joined forces to fight Boko Haram.
Led by Abubakar Shekau, the militant group is trying to establish an Islamic caliphate.
In recent weeks, the African coalition has forced the rebels to retreat from an area the size of Belgium.