Iran nuclear talks to resume
Comments
By
Euronews
with
Reuters, Associated Press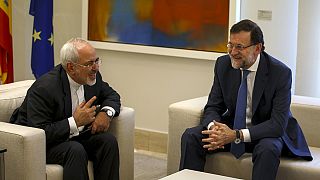 Iran will resume talks with world powers next Tuesday over its nuclear programme.
The Iranian Foreign Minister, who is on a trip to the Spanish capital Madrid, did not say where the talks will take place.
Mohammad Javad Zarif said experts will begin drafting the wording of a framework deal brokered after a marathon eight days of talks in Lausanne, Switzerland.
"I am not being philosophical", said Zarif. "I think we are in fact close to an agreement but we just need to write it down. But we also need to change this mentality and the paradigm in order to make it work better."
Israeli Prime Minister Benjamin Netanyahu has criticised the deal, saying it will leave Iran free of sanctions but with it's nuclear capability in tact.
"It is a bad deal, a very bad deal that leaves Iran in possession of the capability of arming itself with nuclear weapons, that fills its coffers with a lot of money and enables it to continue its terrorism and aggression in the Middle East."
The announcement of the framework deal after the Lausanne talks resulted in celebrations in the Iranian capital Tehran.
But it is clear there a still a number of hurdles to overcome if a final agreement is to be reached by the end of June deadline.