Iran urges formation of new Yemeni government amid turmoil
Comments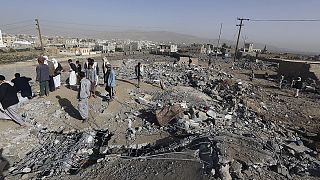 As Yemen's turmoil continues, Iran is urging the formation of a new government and offering to assist in a political transition.
It is a move that is likely to anger Saudi Arabia, which is backing Yemen's president, who is up against Houthi rebels.
The Houthi advance towards the city of Aden forced Abd Rabbu Mansour Hadi to flee to Riyadh and triggered a Saudi-led campaign of air strikes against the rebels, who share their Shiite faith with Iran.
Amid the unrest, Aden is facing a humanitarian crisis. Some bakeries have been closed because of a shortage of supplies.
"We have to stand in line for bread, as you can see, and lines for petrol and diesel. The power is out, people have no water. They have nothing. We urge the government to find us a solution," said one man.
Another added: "The high cost of living is not working. People here are in a worse condition, there is no security or stability, or anything."
Meanwhile, Yemen's former prime minister Khaled Bahah has been sworn in as the country's new vice-president, in Saudi Arabia. He is popular across the feuding parties and could help calm tensions.