At least 23 dead in Russia wildfires
Comments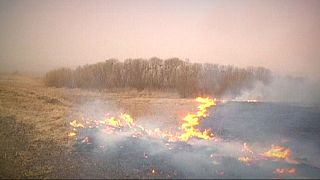 At least 23 people have died as days of wildfires ravaged Russia's Khakassia region.
The Investigative Committee, a body reporting directly to Russian President Vladimir Putin, confirmed the figure on Monday, when the flames were brought under control.
A local healthcare official claims more than 900 people have requested medical assistance and around 100 have been taken to hospital.
Dry and windy weather boosted the spread of the fires, which are believed to have been started by locals setting fields alight to clean them after winter.
The fires have damaged or destroyed several homes, infrastructure and one primary school and killed a number of cattle.
Regional leader Viktor Zimin estimates the blazes have caused over 90-million-euros' worth of damage.