A foregone conclusion? Sudan goes to the polls
Comments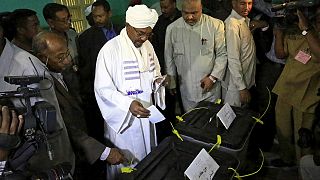 Voting has started in Sudan in the first of three days of presidential and parliamentary elections.
There is no way that this election is going to be not free.
The result is a foregone conclusion, analysts say: incumbent President Omar al-Bashir is most likely to win.
#Sudan's President Omar Hassan al-Bashir (C) casts his ballot during electons in the capital Khartoum #SudanVotespic.twitter.com/DgKXlHimsN

— Reuters Africa (@ReutersAfrica) April 13, 2015
In power since 1989, Bashir and his National Congress Party (NCP) are going up against a handful of minor candidates. Most of the main opposition parties have boycotted the vote.
Voting has begun in Sudan elections expected to extend President Bashir's 25-year rule http://t.co/D064ngaaBOpic.twitter.com/Lauo5Uf4j1

— AJE News (@AJENews) April 13, 2015
Bashir is wanted by the International Criminal Court (ICC) on charges of war crimes. However, during his campaign he pledged peace, development and improvements for the economy in Sudan's first presidential election since the secession of South Sudan in 2011.
Great Britain, the US and Norway have criticised the voting system, saying Sudan is left without an "inclusive political process."
The EU shares a similar position. Foreign Policy Chief Federica Mogherini declared the election "cannot produce a credible result with legitimacy throughout the country."
However, Professor Mukhtar Al-Assam disagreed. Speaking to Voice of America, the head of Sudan's Independent Electoral Commission claimed the vote would be fair.
"It is free and fair, because all candidates are allowed to have their representatives in the polling stations to stay with ballot boxes until the results are announced," he said, adding: "So, there is no way that this election is going to be not free."
Voting is expected to end on Wednesday (April 15).