Obama and Maduro meet for first time amid US-Venezuela tension
Comments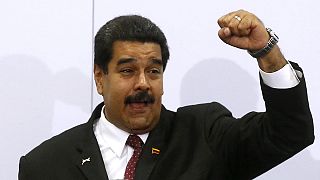 President Obama briefly met his Venezuelan counterpart for the first time on the margins of the Summit of the Americas in Panama.
Greatly exceeding his allotted time in his speech, Nicolas Maduro lashed out at the US and its leader – and said relations could only be normalised if sanctions against officials are lifted.
Amid previously deteriorating relations between the two countries, Maduro had claimed that he had tried to arrange a meeting with Obama for two years but had never received a response.
But their face-to-face meeting was less hostile by all accounts. The two are said to have greeted each other in Spanish.
"It was a serious and sincere encounter. We told the truth and I would say it was cordial," the Venezuelan leader said.
In the past few weeks the US has described Venezuela as a security threat and imposed sanctions on seven top officials, accusing them of violence or human rights abuses.
At an alternative, People's Summit in Panama, Maduro's revolutionary rhetoric was back.
But he has recently commended Obama for saying the US did not see Venezuela as a threat, despite a designation to the contrary by Washington.
US officials had tried to downplay the accusation at the summit but it clearly rankled with several Latin American leaders.