Thailand: Seven hurt in Koh Samui car bomb
Comments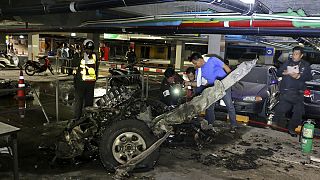 Seven people have been slightly hurt in a car bomb explosion on the tourist island of Koh Samui in Thailand.
The device packed in a pick-up truck caused panic after it went off in a shopping centre car park.
An official said six Thais and a 12-year-old Italian girl were treated in hospital for slight injuries and released.
Reports quoting local sources said the car had been stolen from one of Thailand's southern provinces, where an Islamist insurgency has caused more than 6,000 deaths in the past decade.
But officials said it wasn't yet clear where the vehicle came from.
Authorities later on Saturday were quoted as saying the bomb may not be linked to the southern insurgency, but could be part of a wider campaign to cause instability.
A second explosion is said to have badly damaged a nearby supermarket.
The authorities have reportedly said the bombs were designed to destabilise the military, which took power in the country following a coup nearly a year ago.