Maradona makes his mark in Colombian peace charity match
Comments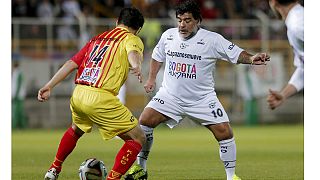 The Colombian peace process has received an unlikely boost from Diego Maradona.
The Argentine football legend played in an exhibition match in Bogota where he called for an end to the five-decades old civil war that's left more than 200,000 people dead.
"The ones who deserve the credit are you in the stands, who want peace. We can run after a ball but peace must be won by you because you truly deserve it. Enough of the violence in Colombia! We want peace and I want it with all of my heart," Maradona told fans.
On the pitch, the master often looked like he had lost none of the magic in his feet, although the pace has clearly gone.
But the world cup winner did have the final word as he won and converted a penalty for his side to run out 2-1 winners.
The Colombian government and FARC (Revolutionary Armed Forces of Colombia) are currently holding talks in Havana to seek to end the armed conflict through negotiations.