Diplomatic row over Falkland Islands heats up
Comments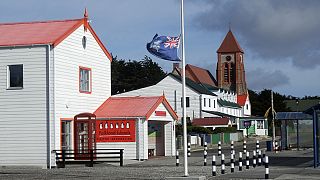 Argentina has threatened legal action against British and US energy companies operating near the Falkland Islands in a growing diplomatic dispute over the territory in the South Atlantic.
Last week, British oil firms said they had made an oil and gas discovery off the Falkland Islands. An announcement which Argentinian President Cristina Fernandez called 'almost provocative'. Buenos Aires claims the firms do not have the right to be exploring on Argentina's continental shelf. Daniel Filmus from the Foreign Ministry in charge of Falkland-related Issues said:
"Argentina is in the position to file legal complaints against those who, without authorisation from the Energy Secretariat, are undertaking exploration and exploitation activities."
In another development, Argentina has called for answers over media reports that Britain spied on its military and political leaders from 2006-2011. The allegations come from documents leaked by US whistleblower Edward Snowden. The reporter behind the latest revelations, Eddie Fitte, said, "the most striking thing is the level of concern that England has about Argentina. From 2006 to 2011, Argentina was declared as the principal target of British espionage along with Iran."
Argentina's Deputy Foreign Minister Eduardo Zuain summoned the British ambassador over the spying allegations and informed him that legal action would begin against the British energy companies on Thursday evening. Britain responded by summoning the Argentinian ambassador to explain the legal threats.
It comes after the UK said it would strengthen its military presence on the islands last month in response to the 'very live threat' posed by Argentina.