Dare to care: how teachers impact on the wellbeing of students
Comments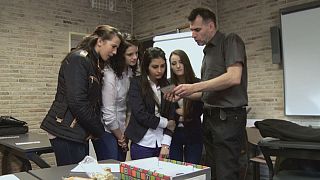 A teacher's role in their students' lives can be much more than educational. While they can be generally inspirational to young minds they can also help deal with a range of problems in their home and social lives.
There are quite a lot of families that think that family issues should remain in the family and this makes child abuse hidden
In this edition of Learning World presenter Maha Barada looks at three examples of how educators can have a positive influence beyond the classroom, in the health and wellbeing of their students..
Puerto Rico: facing a big problem
One in three children in Puerto Rico is classed as obese, even more than in the US. In a drastic effort to tackle the problem authorities are considering imposing fines on parents whose children are excessively overweight. But a lot of teachers think it's the wrong approach, believing the answer lies in education.
Albania: Exposing domestic abuse
Domestic violence against children is a particular problem in Albania, where corporal punishment is deeply ingrained as an acceptable aspect of family life. The NGO Save the Children has set up a comprehensive programme to educate parents, teachers and children on the harmful effect physical abuse has, not just on individuals but on society as a whole. The starting point is teaching children about their rights and building up their confidence to speak out.
Belgium: battling cyber-bullies
Online bullying is a concern for parents the world over, but especially so in Belgium where it's estimated one in three youngsters falls victim to this form of harassment. In this report we hear the story of one teenager who managed to escape the tyranny of cyber bullies thanks to the intervention of a teacher, her mother and an innovative anti-bullying programme
Click on the video to see these stories in full.