Persona non grata: French nationals banned from Romania for 'terrorism links'
Comments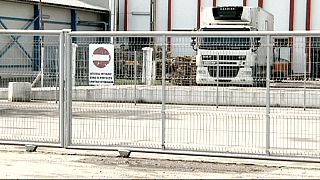 Time is up for six French nationals working in Romania who have been labelled a threat to national security, according to a report by DIGI24 Romania.
On March 31, 2015, a Romanian court gave them ten days to leave the country following an investigation launched in 2013 by national intelligence agency, SRI.
The group, which was running a meat-exporting business between the north-western town of Satu Mare and France, is suspected of having links to ISIL and al-Qaeda.
SRI

speaks to euronews

SRI official Sorin Sava spoke exclusively to euronews about the case.

"All the actions taken by the Romanian Intelligence Service happened in the larger context of preventing certain actions, such as terrorist attacks in Romania," an intelligence officer told euronews.

A statement released by Romanian intelligence officials reads:

"Concretely, the members of the group, affiliated to radical ideologies promoted by terrorist groups Islamic State and al-Qaeda, were in contact with supporters of these organisations' cause and carried out activities of extremist Islamic propaganda (of a jihadist nature) on the Romanian territory: radicalisation; ideological recruitment, recruitment for religious/military preparation in conflict zones affected by terrorist phenomenon."
Persona non grata
Five of the group have been banned from re-entering Romania for seven years and one for three years.
Hassib, a 36-year-old businessman, is one of those expelled for seven years. Romanian business registries list him as co-running a poultry-processing business, which produces halal meat.
"The police came to see me, telling me to leave the country immediately, the same day," he said. "I didn't accept and they gave me a letter in Romanian. I didn't understand exactly what it said, but (then) got a bit more information about the letter. I didn't expect to have to leave Romania. I didn't take all of this seriously. I thought it was a bad joke."
He added that relations between him and the Romanian administration had always been good, with no problems.
According to prosecutors, Hassib was at the top of the list of suspects, suspected of subversive actions against the Romanian state. He is alleged to have posted religious materials from various sources on his Facebook page.
The court ruling has been appealed by lawyers working for the meat company.