Catalonia: 11 arrested for suspected links to ISIL
Comments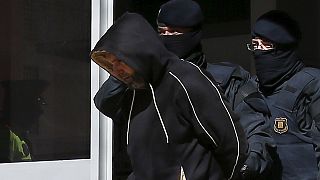 An ongoing police operation against a jihadist cell in Catalonia, northeastern Spain, has resulted in the arrests of 11 people. They are suspected of having links to the ISIL militant group.
A group of 360 officers from Catalonia were involved in the raids, which were launched across a dozen homes in the region on Wednesday morning (April 8).
Officials say there is evidence the group was planning an attack in Spain, as well as trying to send more young people to Syria.
"We have been working with the National Court for 13 months," said Ramon Espadaler, Catalan Chief of Internal Affairs. "We had important information, that clearly showed an explicit will to carry out attacks in Catalonia."
The raids are believed to have been a continuation of an operation launched in Bulgaria in December 2014. Then, three youths were detained after attempting
to travel to Syria to fight alongside ISIL militants.