Air traffic control strike in France grounds flights
Comments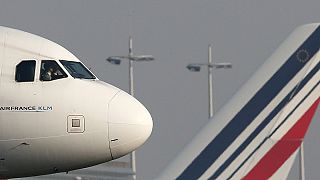 A strike by air traffic controllers in France has left scores of flights grounded.
The two-day stoppage is over working conditions and plans to raise the retirement age from 57 to 59.
Air France has warned passengers that as many as two thirds of short-haul flights are likely to be cancelled at French airports.
"I was about to get my flight to go to Exeter in the south of England and finally it is cancelled because of the strike of the air traffic controllers.So I have to wait until Saturday," explained one passenger at Charles de Gaulle airport in Paris.
Another passenger, at Orly airport, added: "Everyone has the right to take a stand. WIth this strike, I think passengers were given notice."
The state-employed air traffic controllers are threatening two further strikes for later this month, claiming management are not taking their demands seriously.
Air traffic controller strike: Essential information
The French civil aviation authority has said that up to 40% of flights could be cancelled.
#grève des contrôleurs #aériens affiliés sncta</a> : 40% des vols annulés ce mercredi 8 avril 2015 <a href="http://t.co/Z3n2boV8Hu">pic.twitter.com/Z3n2boV8Hu</a></p>&mdash; dgac (DGACfr) abril 7, 2015
Eurocontrol is warning of "very extensive delays" on Wednesday (8 April) and advising passengers to contact their airline.
French strike: Very extensive delays. See http://t.co/niTmWpiGHm and http://t.co/jybBktWpaL Check with your airline

—

EUROCONTROL

(@eurocontrol) abril 8, 2015
Further strikes are planned 16-18 April and 29 April-2 May.
Easyjet has cancelled 118 flights, most of which involve journeys within France
Ryanair has cancelled 250 flights
Flybe has cancelled 16 services
British Airways has reportedly cancelled several flights, mostly affecting people travelling from London Heathrow to French destinations, but also flights to and from Barcelona