Russians mark 40 days since killing of opposition leader Boris Nemtsov
Comments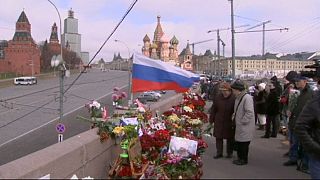 Dozens of people have been laying flowers at the scene in Moscow where opposition leader Boris Nemtsov was killed 40 days ago.
Traditionally in Russia, this amount of time after a person's death is marked with a memorial wake.
Meanwhile, a judge who has been considering the legality of the arrests of three men in connection with the killing, has ruled they must remain in custody until a later hearing.
All three, who are ethnic Chechens, say they are innocent.
Nemtsov was shot dead at night, within sight of the Kremlin walls. It was the most high profile killing of an opposition figure in the 15 years that Vladimir Putin has been in power.
The death has triggered anti-Putin demonstrations, with critics pointing the finger of blame at the Russian government and a contract killing. Several other motives have also been mooted.
Amnesty International has questioned the fairness of the investigation.