Anti-Islam group PEGIDA invites far-right figure Geert Wilders to rally
Comments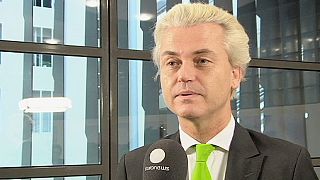 It is attracting fewer demonstrators than in the past, but the German anti-Islam group PEGIDA is making new attempts to revive itself.
Several hundred turned out on Monday for a new protest rally in Dresden; only a fraction of the thousands hoped for.
But organisers say the extreme-right Dutch politician Geert Wilders has been invited to attend a rally next week, and they hope that will boost numbers.
PEGIDA says it is against what it calls the Islamisation of Europe, but the group is increasingly targeted now with large counter-protests.
The organisation was widely condemned after images emerged of its leader, Lutz Bachmann, posing as Hitler. He resigned but was then reinstated.
Similar events held by branches of PEGIDA in other European countries such as Austria and the UK have only attracted small crowds.