Iran nuclear deal: interview with Sadegh Zibakalam
Comments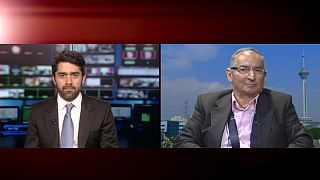 One day after the historic agreement between Iran and the six world powers euronews discuss this with Sadegh Zibakalam, Professor of Political Science at the University of Tehran
euronews: "Mohammad Javad Zarif said that this is a win-win agreement. Iranian extremists say that Iran has lost out on many points."
Sadegh Zibakalam: "Listen to me the most important part of this agreement or framework is that Iran can continue its nuclear activities on one hand and build up trust with Europe and the USA on the other.
"At the same time I think that the Iranian people, in fact, the way they support the agreement leaves the Iranian conservatives to try and prevent the final agreement in June."
euronews: "The Israeli government considers the agreement a threat to the safety of Israel, yet on Thursday night Obama presented it as ensuring world peace. What impact will this difference of opinion between the two allies have on the final deal expected at the end of June?"
Sadegh Zibakalam: "There are a lot of countries who want and take satisfaction from the hostility between lran and the US: Israelis living abroad, mainly Netanyahu hardliners and the Saudis."
"Israel and the Saudis are right to be worried because they've been using the Iranian nuclear programme towards their own regional power interests."
euronews: "Last night was a historical and memorable one on the streets of Tehran. Many people went to welcome back Zarif at the airport this morning. How optimistic are you about a final nuclear agreement?"
Sadegh Zibakalam: "I don't believe the Iranian conservatives such as supporters of Ahmadi Nejad or the ultra-conservative political parties can prevent the progress of a final agreement.
"The majority of Iranian people, at least those who voted for President Hassan Rouhani, support this the agreement.
"That's why in my opinion the future belongs to Iran's moderates – people who want to patch things up and have a peaceful and respectful relationship with the USA and the EU."